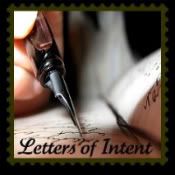 I'm hooking up with Julie at
Foursons
today for a little LOI. I think the
nincompoops
healthcare professionals at EPMC deserve it.
Dear ER "doctor":
Thank you very much for starting off my mother's stay at EPMC with a bang. The ER nurses rocked. You, you whined like a little bitch when Mom bled on your slacks.
Caused by doing something you told her to do.
And then you had the nerve to tell her to "stop it!". Hello?! She was following your instructions to raise her arm - broken into nine pieces - above her head. Mom is "dirty tough" (<-- thanks for that Mikey) and assumed you had a reason to ask her to do that, thus proceeded to do as you bid. Next time, look at the x-rays first, asshole.
Signed,
Be Glad I Wasn't There
`````
Dear
I'm too busy to help you
Floor Nurse:
Standard operating procedure for patients who are post-op orthopaedic surgery is ice. Copious amounts of ice. Reduces swelling; increases healing. Anyone who has ever sprained their ankle knows that. So, why did you not at least
offer
ice? Why did my mother have to suffer through the night - drugged up on IV meds - and have to
ask
for it the next morning when the meds no longer touched her pain? Ice should have been applied liberally throughout the night. But, hell, what do I know? I've only got 25 years in medicine; several as an athletic trainer, several as an EMT, even more as an MA, plus throw in a year or two in hyperbaric medicine. A nurse I am not, but I at least know to apply freakin' ice!
Signed,
Could Have Done A Better Job Drunk Than You Did Sober
````
Dear Orthopod's MA:
When I was told that you would call us when Mom's new prescription was called in, I expected you to, you know, call. Since you did not, Mom spend her first night at home managing her pain with *ice* and ibuprofen. 24 hours after a horrific horse injury and an elbow reconstruction surgery in which the surgeon could only put seven of the nine bone pieces back in place, my mother had to spend the night with just ibuprofen. She is dirty tough, but that was expecting a whole lot.
Not only did you not call to let us know her script had been called in that night, Bill had to call the next day to find out if it had been done. Only then did Mom get her meds.
Signed,
Hope Karma Kicks You In The Ass