Again, thanks to Rachel and Mr. Daddy at
Once Upon a Miracle
for hosting this little party.
One night, I was stretched out in bed on my tummy, just settling down to sleep when I felt a little gas bubble shift. Not a big deal, RockCrawlinChef and I had breached the fart barrier long before we got married, and besides it was just a little gas bubble. Heck, he'd never even know (not that it really mattered). So, I let loose, expecting a little pfffft.
What I got instead was a full-on butt belch.
Scamp had been playing with Allie at the foot of the bed, pouncing on Allie's wagging tail. But at the sound of my not-at-all-little-pfffft, he changed directions...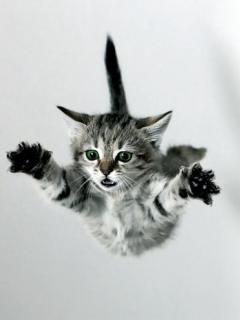 ...and landed with both paws right in between my cheeks. I could almost hear him thinking, "I got it!"
RockCrawlinChef disagrees. He swears Scamp was thinking, "Good Lord, cork it up!"